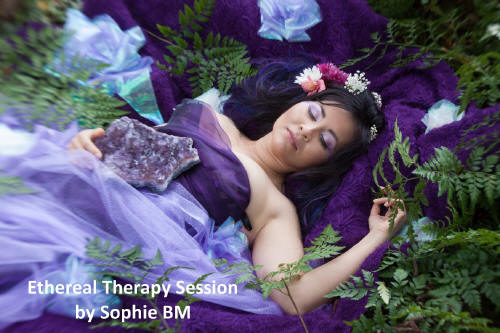 Core synchronism, crystal therapy, and sound therapy bring you gently into a meditative and relaxing state. Embark on a dreamlike, transformational journey where emotional balance, intellectual clarity, and cosmic re-connection can be achieved. Sessions are customized based on the Client's need including:
Private communication with beloveds that have recently passed or are still alive but unable to communicate in the Physical Realm.
Resolution of Past Life challenges
Etheric balance and cleansing for Physical, Mental, Intellectual, and Spiritual Bodies
Clients are encouraged to bring a writing journal or recording device for taking notes after their personal journey is complete. All sessions with Sophie BM are conducted with the client fully clothed and techniques used are custom to each client.
A session will normally last for 1 hour. All sessions are kept confidential.
Making a Reservation
Ethereal Therapy Sessions must be booked at least one week in advance. Please shower before this treatment and be well hydrated. Do not wear any jewelry or metal accessories and wear loose comfortable clothing.
Session Fee: $75.00 U.S.D. per person
Sessions are available on Saturdays or on Sundays.
Please text for appointment via: 850.240.4808
New Client Policy: If you are new client, you must fill out the new client form and pay for your first session in advance at the moment of booking. Session fees are non-refundable for no shows. Payment may be made by cash or check (no credit cards). If paying by check, the check must clear before a session date and time is confirmed.
Late Appointment Arrival Policy
Ensure you get the most treatment time out of your appointment by arriving at least 10 minutes before your scheduled treatment for in-person sessions. This will allow you time to fill out any intake forms and settle into the treatment space before your session begins. Late arrival to your appointment will only shorten your available treatment time and will not be subject to any discounts.
Cancellation/No Show Policy
If you need to reschedule or cancel an appointment, please give at least 48 hours' notice. Otherwise, full payment of subsequent sessions will be expected on the booking of your next appointment and are non-refundable even if you do not arrive as scheduled.