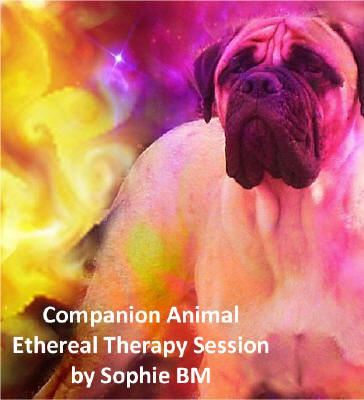 All paws in! Treat your beloved companion to a restorative energy session through healing touch. Sophie BM combines her unique talents of telepathy, channeling, and energy healing to provide the best care for your beloved companion. Two options are available:
In-Home Sessions: Please ensure your pet is clean and flea/tick free. Session duration is determined by your pet and one owner must remain quietly present in the room while the session is in progress. No children are permitted in the room during the session. Most sessions will last from 45 minutes to 1 hour long depending on the needs of the client. Therefore, please allow at least 1 hour of free "quiet" time.
Distant Sessions: Appointment time is made according to your companion animal's sleep schedule at their home location. A written report of my findings are sent to you once the session is complete.
In-Home Session Fee: $85.00 U.S.D. per companion animal
Distant Session Fee: $60.00 U.S.D. per companion animal
* A $15.00 Discount is given for service and therapy dogs. Therapy ID must be presented for discount.
Making a Reservation
In-Home Ethereal Therapy Sessions must be booked at least one week in advance.
Distant healing sessions must be paid for at the time of booking the appointment.
Please text for appointment via: 850.240.4808
Late Appointment Arrival Policy
Ensure your companion animal's environment is ready on my arrival. Delays and disruptions will only shorten the available treatment time and will not be subject to any discounts.
Cancellation/No Show Policy
If you need to reschedule or cancel an appointment, please give at least 48 hours' notice. Otherwise, full payment of subsequent sessions will be expected on the booking of your next appointment and are non-refundable even if you are not ready as scheduled.